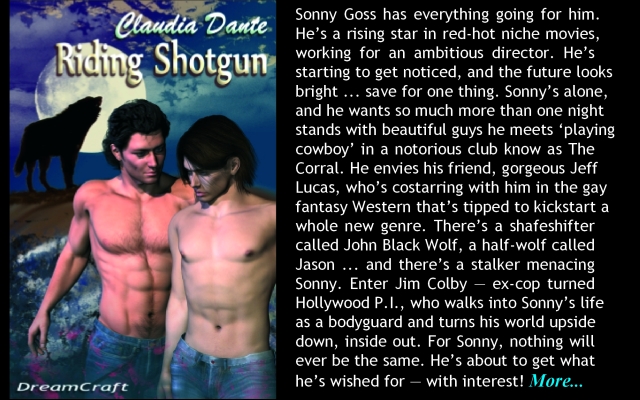 Entire site &copy 2010 by Jayne DeMarco, Jade and Dreamcraft. All artwork by Jade. Unauthorized use is unlawful — please respect copyright. Site designed and powered by DreamCraft.
I'm working on a few more stories at this moment. Two are going through the editing process ... and I want to thank my editor, Jade, for working with me on this. A good editor is a blessing, and Jade is a great one. I don't know which of the pieces will see light of day next, but ...

One is set in Alaska, in present day Anchorage and environs (close to home). Another is a paranormal fantasy. The third is a an old fashioned romance with a sting in its tail. Which will be issued next? This is up to DreamCraft!

At the same time, I'm writing another story, and I'll blog about this in due course, when there's something significant to tell!

About Claudia Dante
Available titles
Coming soon
Images

Visit...
My blog

My wikipage
My Amazon Page

Riding Shotgun: $3.99

PDF:

epub: