<!!!!!!!!!!!!!!!!!!!!!!!!!!!!!!SCROLLBARS!!!!!!!!!!> <!!!LINK COLORS!!!!!!!!!!!!!!!!!!!!!!!!!!!>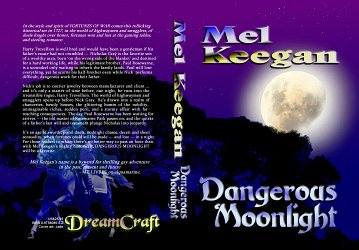 Read sample chapters, in PDF format




459pp, 6"x 9" trade size paperback
cover by Jade
$23.95

COVER NOTES In the style and spirit of FORTUNES OF WAR comes this rollicking gay historical set in 1727 ... in the world of highwaymen, of duels fought over honor, fortunes won and lost at the gaming tables, and romance that fairly sizzles.

Our heroes come from vastly disparate backgrounds. Harry Trevellion was well bred and would have been a gentleman if his fatherís estate had not been lost ... and Nicholas Grey is the favorite son of a wealthy man, who was born Ďon the wrong side of the blanketí quite by chance! Nickís brother, Paul, is a wastrel, a scoundrel who is only waiting for their frail old father to pass away. Heíll ruin the family ... and he scorns his illegitimate half-brother, though Nicholas is doing difficult, dangerous work for their father.

Nickís job is to courier jewelry safely between manufacturer and client ... and itís only a matter of time before he runs into the irresistible rogue, Harry Trevellion. The two share a stormy relationship until the day Paul Rosewarne has been waiting for arrives: the master of Rosewarne Hall passes on ... and the quirks of an old manís last will and testament put Nicholas behind bars.

Itís a world of swords, pistol duels, midnight chases, deceit and sheer sensuality, in a time when fortunes could still be made ... and lost. If you loved Melís other historicals, including FORTUNES OF WAR, THE DECEIVERS and WHITE ROSE OF NIGHT, donít miss this one!

Pullquote: Mel Keeganís name is a byword for thrilling gay adventure in the past, present and future ó MILLIVRES on Aquamarine.

PUBLISHER'S NOTES:
Many readers have been awaiting the release of this title with keen anticipation. It's Mel Keegan's first historical since the award winning THE DECEIVERS ... it's also Mel's first 'thick' since NOCTURNE ... and it's the first 'big family saga' type work since FORTUNES OF WAR. DANGEROUS MOONLIGHT is everything you've been waiting for. It's a work you can get your teeth into ó twice the length of an average novel. And we've packed it into around 340pp to keep down costs. We're able to bring you this monster at only a couple of bucks over the price of the routine paperback.
---
DANGEROUS MOONLIGHT
REVIEWED BY J. GRENFELL

Don't you love a huge piece of work that's layers and layers deep, where you lose yourself in the characters, and the research is so detailed that when you stop reading it's reality that feels unreal, because the book was so real it 'beamed' you right into a 'nother-time-'nother-place.

DANGEROUS MOONLIGHT is MK's first historical in eons. I'm one of those weird ones who actually prefer historicals over SF (and I know to duck when I say that ... the rest of you have gotten me waaay outnumbered).

As they say, 'it was worth the wait.' This opus has all the wealth of detail you find in FORTUNES OF WAR and all the action you find in THE DECEIVERS and all the depth of characterization you find in WHITE ROSE. It's also great that MK lets the characters 'talk properly.' By that I mean he doesn't have them rattling on in stilted language, like 'faux-Shakespeare.' That gets real old, real fast, and a lot of historicals suffer that way (MK's being the welcome exceptions naturally). In DANGEROUS MOONLIGHT it's like he took the dialog of 1730 etc. (which I don't think you'd understand ... like trying to follow Shakespeare almost) and translated it into speech that sounds 'real' to people in our era. Great job ... handsome heroes ... derring do ... swashbuckling ... and a feel-good ending. What more could you ask for? Oh yes, and some hot sex, too :)

---
DANGEROUS MOONLIGHT
REVIEWED BY "HOWLIN' MAD"
This has to be my fave MK book of em all. I had to fight for the book. I put it down and couldn't find it again. My roommate had half-inched it. I didn't even know he read gay fic but i couldn't get my clammy fingers on DM again for a week, even though i was the one that paid for it! (I know i know, i told him to get his own) I grew up with swashbucklers. I'm not that old, but my mum was a big Errol Flynn fan. By the time i was like 9 i could see why < evil grin>. Anyway, DM is another one of MK's best ones, like FOW, and they're like a swashbuckler come to life and turned gay. Whooooooo!! Gotto love Nick and Harry (don't ask me to pick a fave ... I'll take em both! At the same time!!) Great story, great detailing. I do like SF too but i wish MK would do more like this one. Rating: at LEAST six stars out of five ... I never was able to figure out counting...